Details
Our MicroGreens Seeds are chosen by Square Foot Gardening EXPERTS for the best results in small-space, low light gardening. They are 100‰ Non-GMO, Non-Hybrid, Heirloom and are the freshest seeds from this years's harvest. We provide the highest seed count for the money and prepare the seeds with USDA developed moisture reduction before hermetically sealing in air-tight, mylar pouches.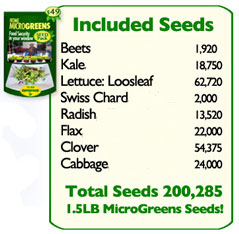 Also Included:
4 - Grow Mats
These Grow Mats are made from a natural organic fiber mat made without use of toxic binders or chemical additives. They are thin (1/8 inch) 10"x10" pads.
2 - 10"x10" Grow Trays w/Clear Plastic Dome Tops
The Jiffy Plant Tray is a versatile solution for healthy seedlings. This 10in x 10in tray is reusable, watertight and can be used with our organic Grow Mats. Made from recyclable plastic, this earth friendly plant tray comes with a clear dome to maintain greenhouse humidity and temperature for healthy seedlings and MicroGreens.
2 oz Azomite
Azomite is a complete organic fertilizer. A source of over 70 minerals & trace elements. Azomite is the name of a special rock mined from 50 million year old mineral deposit only in Utah. Ensuring maximum mineral "uptake" in your microgreens, baby vegetables and plants, Azomite is the single most nutrient-dense amendment you can use.
1 oz Super Kelp Extract
Water Soluble Kelp Extract World-famous as a root soak and a foliar-applied plant stimulant. Extracted from fresh Norwegian Ascophyllum kelp, using a process that concentrates all the goodness of the sea into a small amount of material.
Growing Guide
Written by MicroGreens farming EXPERTS, the essential "How to Grow MicroGreens at Home" is the only book in print that teaches you the "How To of Indoor Security Gardening", "Create your own MicroGreens Garden in 7 Days" even "How to Start a MicroGreens Business" are included in this complete guide to MicroGreens.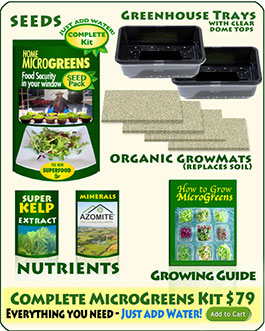 1 oz Alfalfa Certified Organic
Organic Alfalfa Sprouting Seeds - One of the most popular, nutritious & delicious of all sprouting seeds. Alfalfa sprouts are very tasty, with a sweet, nut-like flavor. Alfalfa sprouts are what people typically think of when you mention sprouts. They are the ones you commonly see at a salad bar. Rich in phytochemicals, they protect against cancer, heart disease, osteoporosis and fibrocystic breast disease. They stimulate natural killer cell activity, which strengthens the immune system. What's more, they are beneficial in reducing symptoms of PMS and menopause, including hot flashes. Furthermore, they contain high concentrations of antioxidants, the body's defense against the destruction of DNA which is the cause of aging. Alfalfa sprouts are abundant sources of vitamins A, B, C, E and K, the minerals calcium, iron, magnesium, phosphorus, potassium and zinc. Also carotene, chlorophyll, amino acids and trace elements. They contain 35% protein.
1 oz Buckwheat Certified Organic, Non-GMO
Typical foods set aside for storage are traditionally low or nonexistent in vitamin C and many of the B vitamins. With Organic Buck Wheat seeds however this is not that case, from those same storage foods can be sprouted to give a rich source of these important nutrients. Organic Buck Wheat Seed Sprouts are an excellent source of vitamin C and also contain many good B vitamins. And you probably won't find a less expensive way to get these vitamins than from low calorie organic buck wheat seed sprouts.
1 oz Garbanzo Bean Certified Organic, Non-GMO
Garbanzo Sprouts have a nutty flavor suitable for marinating or as additions to salads or loaves. They will be ready to harvest and eat in 3 to 5 days. Delicious choice for Sprouting. Filling, Healthy and Delicious. Garbanzo beans are high in fiber and also a great source of protein. These Non-GMO Garbanzo beans are tested for chemicals, pathogens and germination before sent to you.
1 oz Green Lentil Certified Organic, Non-GMO
Organic Lentil sprouts are high in fiber, protein and amino acids, vitamins A, C, B complex and E, iron, calcium and phosphorous. Raw organic green lentil sprouts can have a mild peppery flavor. Organic green lentil sprout seeds make a good substitute for celery or green pepper in salads, soups and vegetable combinations. Green lentils are great in lentil soups, Indian recipes or anywhere you would use lentils. Lentil soup is hearty and nutritious and was a staple food of the middle east in biblical times.
1 oz Mung Bean Certified Organic, Non- GMO
Organic Mung Bean Sprouting Seeds - One of the most popular, nutritious & delicious of all sprouting seeds. Mung Bean sprouts are very tasty, with a hearty, meaty flavor. Mung Bean sprouts are what people typically think of when you mention Chinese food. The sprouts you grow from these seeds are incredibly rich in PROTEIN. Calcium and phosphorous are also abundant in mung bean sprouts. The vitamin content is very similar to asparagus and certain mushrooms, being very high in vitamin A.
You may also be interested in the following product(s)
| | | | |
| --- | --- | --- | --- |
| | | | |